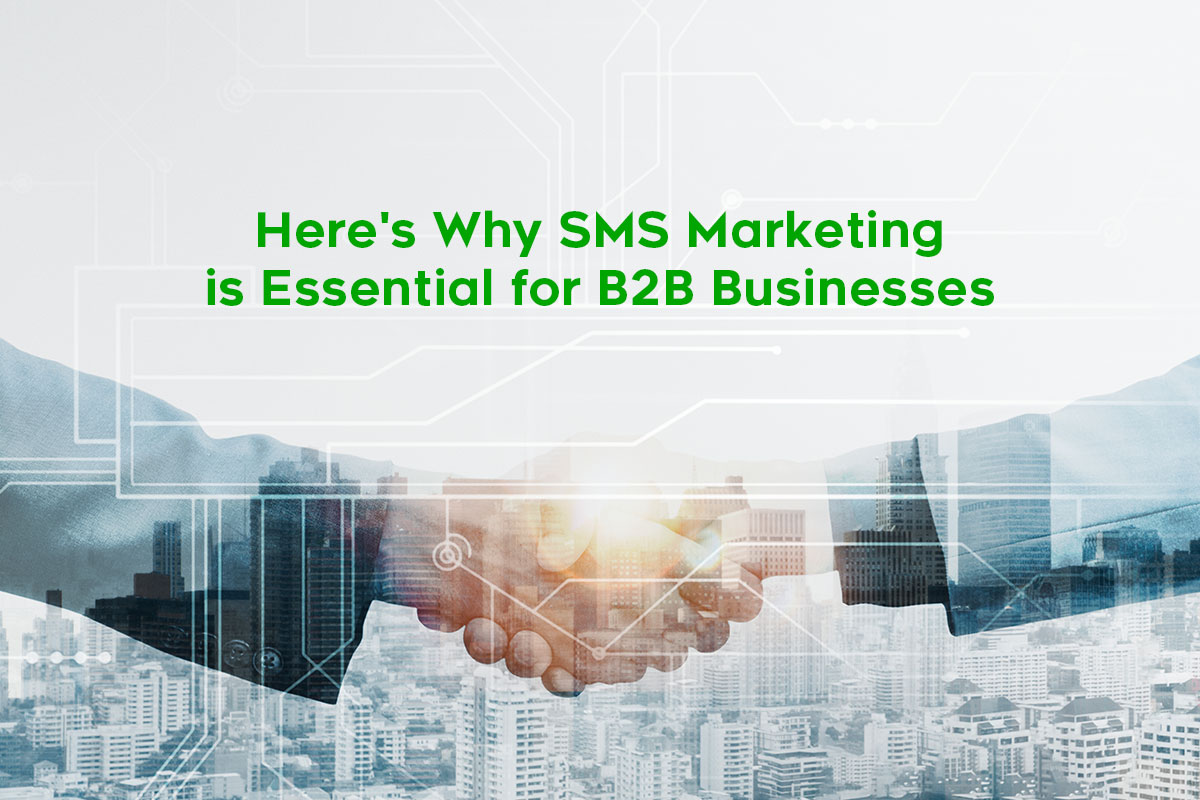 Here's Why SMS Marketing is Essential for B2B Businesses
Did you know that SMS marketing is under-utilised by many B2B companies, even today? It is believed that B2C businesses are more personal, and simultaneously, B2B businesses are more impersonal. However, we all tend to forget that the decision makers behind big businesses are just regular people. Moreover, with B2B businesses being as mobile as B2C businesses, SMS marketing can truly bring tremendous value.
SMS marketing simplifies B2B communication
Unlike the B2C segment that focuses on appealing to the masses, B2B businesses require their marketers to reach out to seasoned professionals who are probably immune to the marketing efforts via mainstream media such as radio, television and newspapers. Basically, you are dealing with a tough-to-please crowd.
There's also the fact that some B2B businesses have very niche products in their arsenal, limiting their targetable prospects. With SMS marketing, you technically have the power to cut through all the clutter and directly reach the decision makers. All you have to do is perfect your craft to acquire leads.
B2B SMS marketing makes data capturing simple and convenient
The world of marketing is all about contacts and leads, and it is even more true in the B2B segment where the number of prospects are much more limited. How does SMS marketing make sense in this situation? Remember, users must give consent or opt-in before receiving any of your SMS marketing materials. In other words, the people you have access to are all quality leads, and are more than willing to read and digest what you have to say.
What if you are new to the scene? Start by adding a phone number capture field in your top-funnel collateral such as e-newsletters, e-books and online blog content, and work your way up from there. Once you have a library of potential leads, use the cost-effective bulk SMS to simultaneously connect with them. It is also worth mentioning that bulk SMS is more scalable compared to phone calls. After all, most people prefer SMS from business over phone calls as they are invasive and time consuming.
SMS marketing efficiently converts prospects into customers that are worth retaining
Studies have shown that the open and read rate of SMS messages is 98%. When put into comparison with emails, replying to an SMS is relatively easier and faster, especially for busy executives. So make good use of this powerful marketing tool to do follow-ups, send reminders, and to notify your prospects about your new product, service or content. Take it a step further by using Picture SMS to promote your visual content, or use Interactive SMS to conduct simple polls or surveys to know where you stand! The power is in your fingertips.
All in all, SMS marketing makes a lot of sense in the B2B segment for its ability to simplify communication while being very user-friendly and welcome (as proven by various marketing statistics). Make it an essential part of your B2B marketing strategy now!